The Warmest Roof On The Market!
Benefit from these great solid roof features:
10 years manufacturer warranty
Superb 'U' Value as low as 0.14Wm2 surpassing building regs requirements.
Timber construction, to eliminate all condensation risks, and making it a true warm roof construction.
Traditional structural roofing grade timbers with engineered "I beams" and Glulam providing incredible strength, durability and insulation.
British or European roofing grade certified timbers.
Wide range of tiles and slates to suit most existing properties.
All timber, combats condensation in a way that similar aluminium structures can't.
Weatherproof in just a few hours (for a typical size) from installation of the eaves beam.
All roofs pre-built in the factory.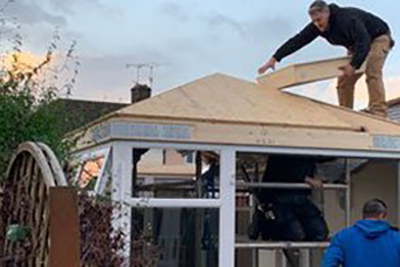 Expert advice to help you find the best solution to your conservatory roof.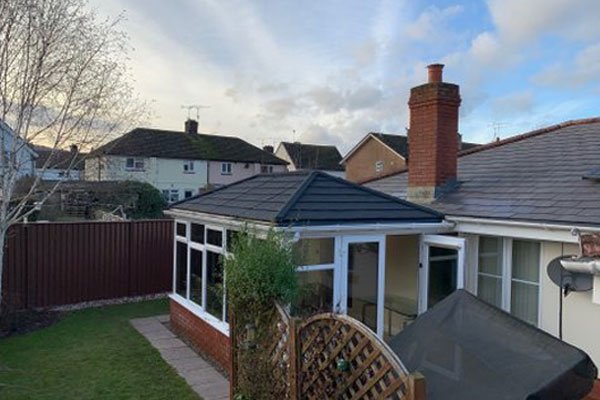 Let our brochures inspire you with our superb range of conservatory roofs.
Everything went extremely well during the project. The team were very good workers. Turned up on time every day and the installation went very smoothly. Had no problems at all. Would highly recommend!

Overall I am very pleased with the finished product. Someone was always available throughout the process and any small issues which I had during the job were dealt with quickly and without any fuss. Very happy customer and so much so that my neighbour next door is now getting the team to convert his conservatory roof.

I am very happy with the job Peter and his team did at my house. My conservatory is now noticeably warmer and we can use it for entertaining now, whereas previously it was always too cold.

Everything went well during the fitting and everyone was very helpful, they even did a couple of other little jobs for me at the time.

Well worth the money. We have now got a new room, and one we can use all year round.

I have just had one installed. I am amazed and happy. The roof came and was replaced within 2 days. The system used is perfect and amazing. Insulation is excellent. Really perfect. Workmen are superb and never stop. If you're looking for a replacement roof then I would 100% recommend them. Price is good.  I was sceptical at first with the price I was quoted after I had been quoted £9,000 pounds with other firms. I am so happy with my purchase; my conservatory is only 9ft long and about 9 foot wide but what a difference already and it's not finished yet. I would highly recommend Cosy Conservatory Roofs and I don't normally recommend anyone, for me to do this is praise indeed HAPPY BUNNY. I can now use my conservatory all year round.

Very happy with the job the team completed. My conservatory is so much cooler in the summer and in the winter it is noticeably warmer where I can now use it to host Christmas dinner which is great. Overall everything went great and everyone was extremely helpful and nothing was too much trouble. Well worth the money as it has allowed us to now use it all year round.

Thank you for the amazing service you provided.

The turnaround time was great and quality provided was outstanding.

The difference in the temperature has really made the work worthwhile.