Conservatory Roof Conversion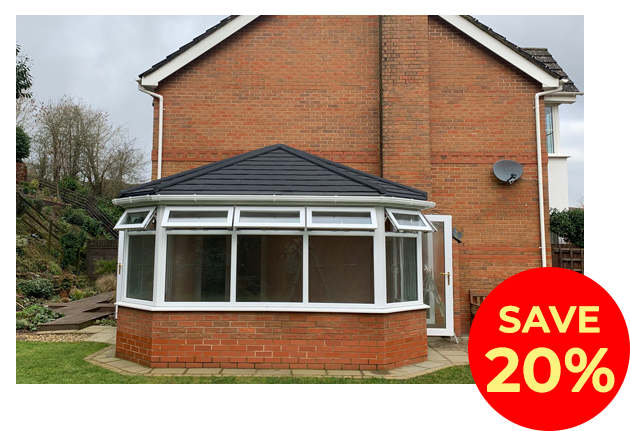 Up to 20% less than the cost of a full roof replacement, each new conservatory roof conversion is built utilising your existing conservatory roof framework.

The old panels are removed and the new roof structure is built on the existing frame with pressure treated, timber joists for strength.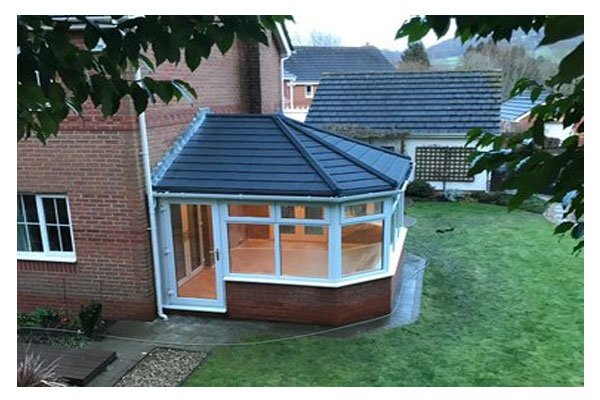 Keep The Frame
There really is no overstating the value of a new conservatory roof.
This fully insulated, tiled conservatory roof conversion is every bit as good as a full roof replacement but comes at a fraction of the cost.
The old panels are removed and the new roof structure is built on the existing frame with pressure treated , timber joists for strength.
A waterproof membrane protects the internal roof structure from moisture and high-grade insulation boards lock in the warmth in winter to help save on those heating bills.
A new, beautifully tiled all-weather roof for your conservatory – there's plenty to get excited about.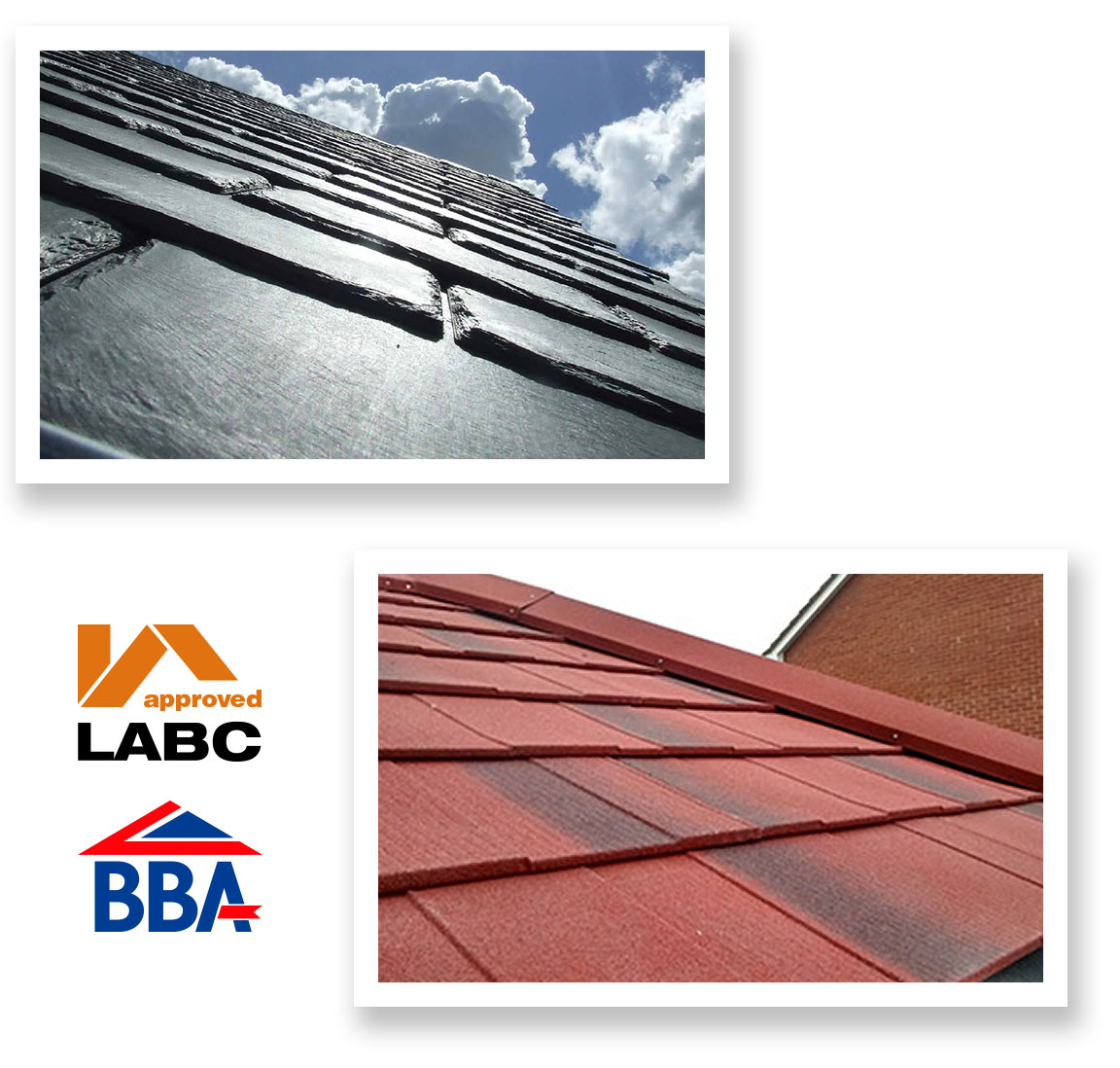 Every Colour Under The Sun
Good looking, all weather lightweight conservatory roof tiles to suit your property.
Tapco slate tiles
These attractive roof slates offer an authentic natural look without the risk of shattering, fading or cracking. Made from a blend of limestone and polypropylene, with moulds cast from real slate, they capture all the natural peaks and plateaux in superb detail.
Metrotile
Based on the classic North American timber shingles, these simple and elegant, lightweight galvanised steel tiles are a popular choice with customers. Not only do they look great, they can be fitted onto more or less any roof pitch.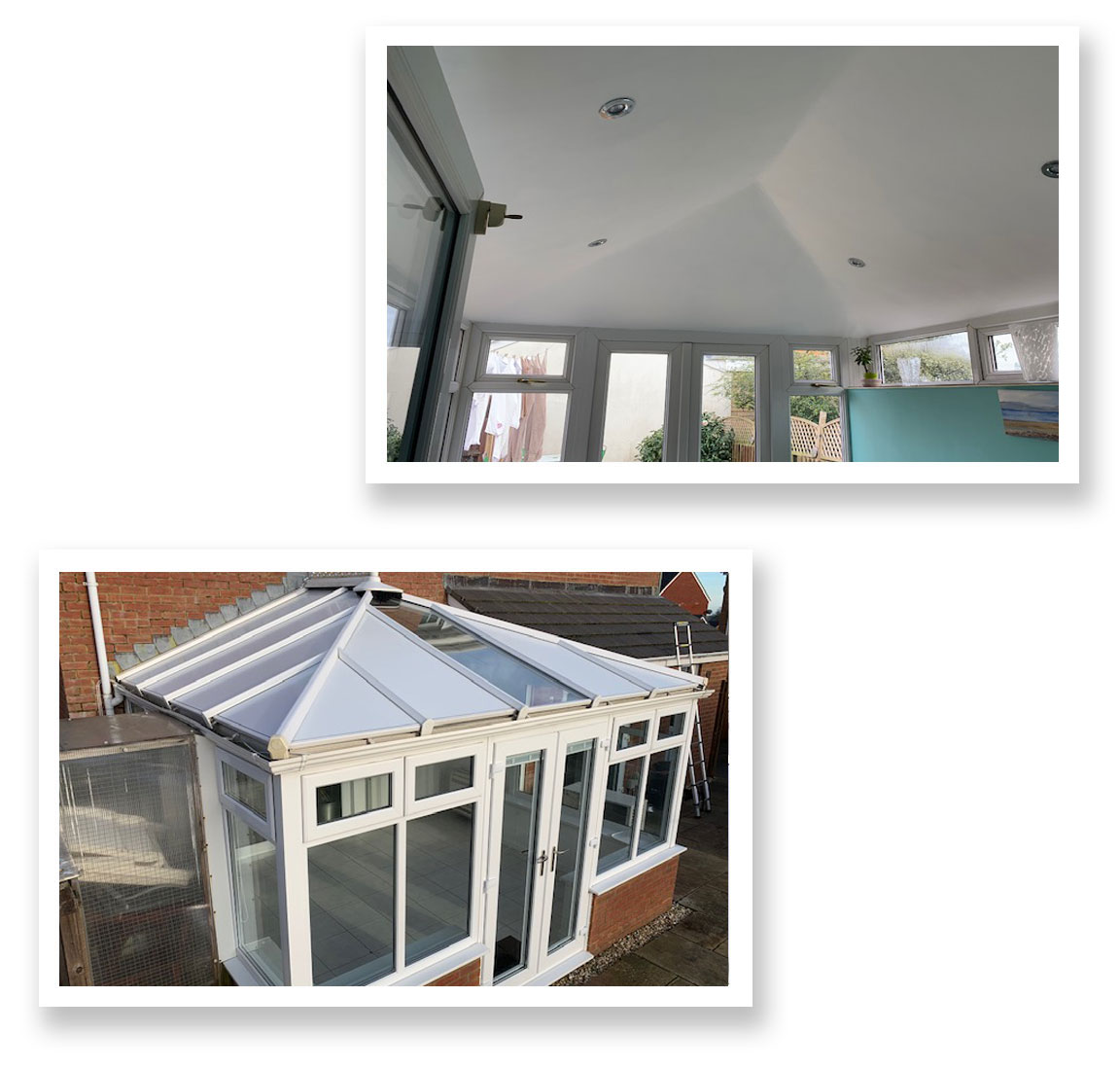 A Perfect Finish
Complete the look with your choice of conservatory ceiling. We can even add downlights and genuine Velux windows to create your perfect living space – day or night.
Plastered ceiling
A new, fully plastered and insulated ceiling will make your conservatory feel just like part of your home. Treat it as you would any other room in your house and decorate it just the way you like.
Benefit from these great solid roof features:
10 years manufacturer warranty
Superb 'U' Value as low as 0.14Wm2 surpassing building regs requirements.
Timber construction, to eliminate all condensation risks, and making it a true warm roof construction.
Traditional structural roofing grade timbers with engineered "I beams" and Glulam providing incredible strength, durability and insulation.
British or European roofing grade certified timbers.
Wide range of tiles and slates to suit most existing properties.
All timber, combats condensation in a way that similar aluminium structures can't.
Weatherproof in just a few hours (for a typical size) from installation of the eaves beam.
All roofs pre-built in the factory.
Thank you for the amazing service you provided.

The turnaround time was great and quality provided was outstanding.

The difference in the temperature has really made the work worthwhile.

I am very happy with the job Peter and his team did at my house. My conservatory is now noticeably warmer and we can use it for entertaining now, whereas previously it was always too cold.

Everything went well during the fitting and everyone was very helpful, they even did a couple of other little jobs for me at the time.

Well worth the money. We have now got a new room, and one we can use all year round.

My wife and I would like to say how pleased we are with the installation of our conservatory roof. From the first meeting with yourself there was no sales pressure at all.

When you arrived with your team you were very professional and I must pay a special mention to Sam for being so clean and tidy – and who cleared up every day.

The end product looks amazing now we have all the furniture back in it looks very cosy and I'm now sure we will be able to use this all year round.

One other thing I would like to mention is - you even took all of the rubbish away.

We would recommend your company to anyone.

Once again thanks for a first-class job please pass on our thanks to your team